The #1 Residential Window Cleaners in Cary NC
Do you have enough natural light coming into your home through your windows? Keeping your windows free from dust, dirt and grime can let natural light in and can even keep your energy costs down? Unfortunately cleaning your windows is a hassle that can waste your entire weekend, and can even be dangerous if you have high windows and no training. EZ Flow has the professional window cleaners in Cary NC that will get your windows sparkling, both inside and out. As a locally owned and operated company, you can count on us to deliver clean windows at an affordable price. For a free estimate on window washing Cary NC, contact us at 919-518-4929.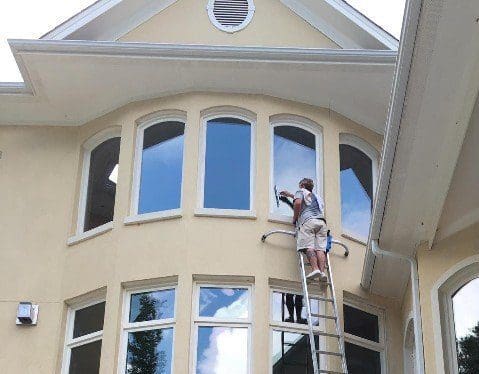 Window Washers In Cary NC
Your windows don't have to be dirty to get a wash, you may be trying to spruce up your home's appearance, get it ready to put on the market, or just let more natural light shine in. It really doesn't matter why you need your windows cleaned, but it does matter who you hire to clean your windows. You may think the cheapest option is the best option, but you should consider who you are inviting in your home. Because EZ Flow is fully licensed and insured, you can rest assured that our team has the right training and experience not to leave shoe prints on your carpeting or streaks on your windows. Our cleaning solutions are tough on dirt, but gentle on the environment, which leaves you with a premium clean that lasts. Give EZ Flow a call, or contact us online to have your windows cleaned by the top window washing company in Cary NC.
How Should I Choose A Window Cleaning Company in Cary NC?
There area number of things that you should consider when choosing a residential or commercial window cleaning Cary NC. Perhaps most importantly, do you trust them to be inside and outside of your home? If you do, do they do good work? Here are some different ways you can determine if a Cary window washing company is right for you
Good Reviews & Highly Rated?
Fully Insured
Experienced Technicians?
Fair Pricing
Modern Equipment
Fully Licensed
Transparent Pricing
The team at EZ Flow Window Cleaning Cary NC cares about our reputation, especially when it comes to the high level of customer service we provide. We are proud of our ratings, which is why you can check out real reviews, left by real customers on Google.
Our Pressure Washing Services in Cary NC
Contact EZ Flow For Window Cleaning in Cary NC
If your interior or exterior windows are dirty they let less light in, potentially increase your power bills, and can give the wrong impression to potential home buyers. Instead of taking the time to wash and clean your windows, hire EZ Flow for commercial and residential window cleaning in Cary NC. We also offer other services aimed at beautifying your home's exterior, such as roof washing, patio cleaning, pressure washing,solar panel cleaning, house washing, gutter unclogging, and dryer duct cleaning in Cary. Fuquay Varina, Youngsville, Carrboro, Wake Forest, Garner, Clayton, Knightdale,. Apex, Louisburg, Holly Springs, Chapel Hill, Morrisville, or anywhere in the triangle,. For a free quote on window cleaning Cary NC, contact us online or call 919-518-4929.