Choose EZ Flow For Power Washing & Window Cleaning in Clayton NC
Keeping your home beautiful throughout the year can be difficult, especially if you don't have the right equipment. If you don't know what you're doing you can damage your home and even injure yourself. Instead of wasting hours of your time, let EZ Flow provide pressure washing & window cleaning in Clayton to keep your home's exterior beautiful no matter what season it is. Get a free estimate on window cleaning or pressure washing in Clayton and find out why our customers keep coming back to us time and time again.
WE PROVIDE THE FOLLOWING PRESSURE WASHING & WINDOW CLEANING SERVICES IN CLAYTON NC
THE TRUSTED CHOICE FOR COMMERCIAL PRESSURE WASHING & WINDOW CLEANING IN CLAYTON
Pressure Washing For Gas Stations in Clayton
Gas stations need to worry about oil & grease, but the need to make sure that windows & signs are clean throughout the year. Let EZ Flow will keep your gas station in Clayton attractive year round.
Office Space Pressure Washing in Clayton NC
If your office park or office space has a dirty exterior, it can give your guests & customers a bad first impression. Choose EZ Flow for all of your commercial window cleaning & pressure washing in Clayton NC.
Retail Commercial Power Washing  Clayton
EZ Flow can keep your retail space's exterior clean and attractive to customers throughout the year. Get a free estimate on our pressure washing & window cleaning services for retail locations in Clayton NC.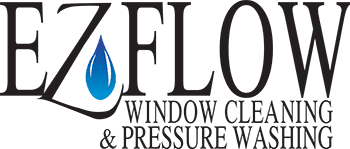 About EZ Flow Window Cleaning & Pressure Washing in Clayton NC
EZ Flow was founded in 2012 in Raleigh NC with the aim of providing high quality, reliable & affordable window cleaning & power washing services to residential & commercial properties in Clayton & the Triangle. As a locally owned and operated company, we understand that it is our local community that has made us successful. Our reputation matters, which is why we put an emphasis on quality of work and dedication to excellent customer service. You can always rely on EZ Flow when you need the very best pressure washing or window cleaning in Clayton NC.