Choose EZ Flow For Raleigh Gutter Cleaning
Your gutters are an essential part of your home because they redirect rain water away from your roof, which can help prevent water damage in your home. However, cleaning your gutters is no easy task, especially if you aren't a trained professional. If your gutters aren't cleaned and maintained then dirt, leaves, branches, and other debris can create clogs which will stop your gutters from functioning properly. EZ Flow provides gutter cleaning Raleigh NC so that your gutters will function efficiently throughout the year. Give us a call for a free estimate on gutter cleaning services in Raleigh NC.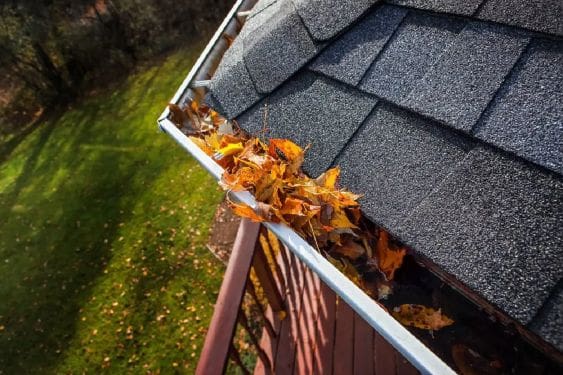 Our Raleigh Gutter Cleaning Service Keeps Your Home Beautiful
Because Raleigh experiences all 4 seasons, your gutters may be exposed to rain, wind, and snow. Throughout the course of a year this may cause debris to accumulate in your gutters, creating clogged downspouts with water overflowing out of them. That's why it's important to have a company you can count on for gutter cleaning Raleigh NC. While you may be able to unclog gutters on your own, cleaning them so they look pristine is difficult without the right gutter cleaning chemicals & tools. Furthermore, if you don't clean your gutters regularly they can attract insects, animals, and even promote mold growth. Get a free quote from EZ Flow on gutter clog removal, gutter washing, and gutter cleaning Raleigh NC.
Benefits Of Gutter Cleaning in Raleigh NC
When you Choose EZ Flow to clean your gutters, we will get rid of any clogs in your gutter system, clear the downspouts, make sure the gutter face is beautiful, and dispose of any debris we clear from your gutters. There are a number of benefits you can expect when you choose EZ Flow to clean your gutters in Raleigh, including:
Increased Curb Appeal
Eliminates nesting places of pests & animals
Protects your basement from flooding
Extends the lifespan of your roof
Protects your home from leaks & water damage
Prolongs the life of your gutters
Keeps your home beautiful
Prevents fascia damage & wood rot
Maintains proper flow of rainwater away from your home
And more!
If you have dirty or clogged gutters and are looking for the best gutter cleaning company in Raleigh, Cary, Durham or anywhere in The Triangle? EZ Flow can make sure that your gutters are flowing properly and looking beautiful. Give our team a call at 919-518-4929 or contact us online to get a free estimate on our gutter cleaning services in Raleigh NC.
Our Raleigh Pressure Washing Services
Free Estimate For Raleigh NC Gutter Cleaning Services
Are you looking for a company that provides residential or commercial gutter cleaning Raleigh NC? EZ Flow window cleaning is one of the top rated gutter cleaners in Raleigh. Our staff has been cleaning gutters in Raleigh for more than a decade, which means we have the knowledge and experience you want to keep your gutters clean and flowing smoothly year round. We're more than just a gutter cleaning company in Raleigh, we also provide window washing, power washing, solar panel cleaning, house washing, deck & patio washing, concrete cleaning, dryer vent cleaning, and roof washing in Raleigh & throughout our service area. That means we provide our services in Chapel Hill, Fuquay Varina, Clayton, Louisburg, Zebulon, Carrboro, Youngsville, Wake Forest, Durham, Garner, Raleigh, Holly Springs, Wendell, Apex, Knightdale, Cary, Morrisville, and anywhere else in the Triangle. To schedule services or a free estimate on gutter cleaning Raleigh NC, give us a call at 919-518-4929 or contact us online.