Low Pressure Roof Washing Raleigh NC
There are many chores that you can do around the house without the help of a professional, roof cleaning in Raleigh isn't one of them. It can definitely be dangerous to climb your roof, but danger aside, if you don't have the right tools and equipment you can actually damage your roof if you try to wash it. Traditional roof power washing can damage your roof & destroy your shingles. At EZ Flow we use a low pressure soft wash that will cut through dirt and grime without damaging your home. Contact us for a free estimate on roof cleaning Raleigh NC today.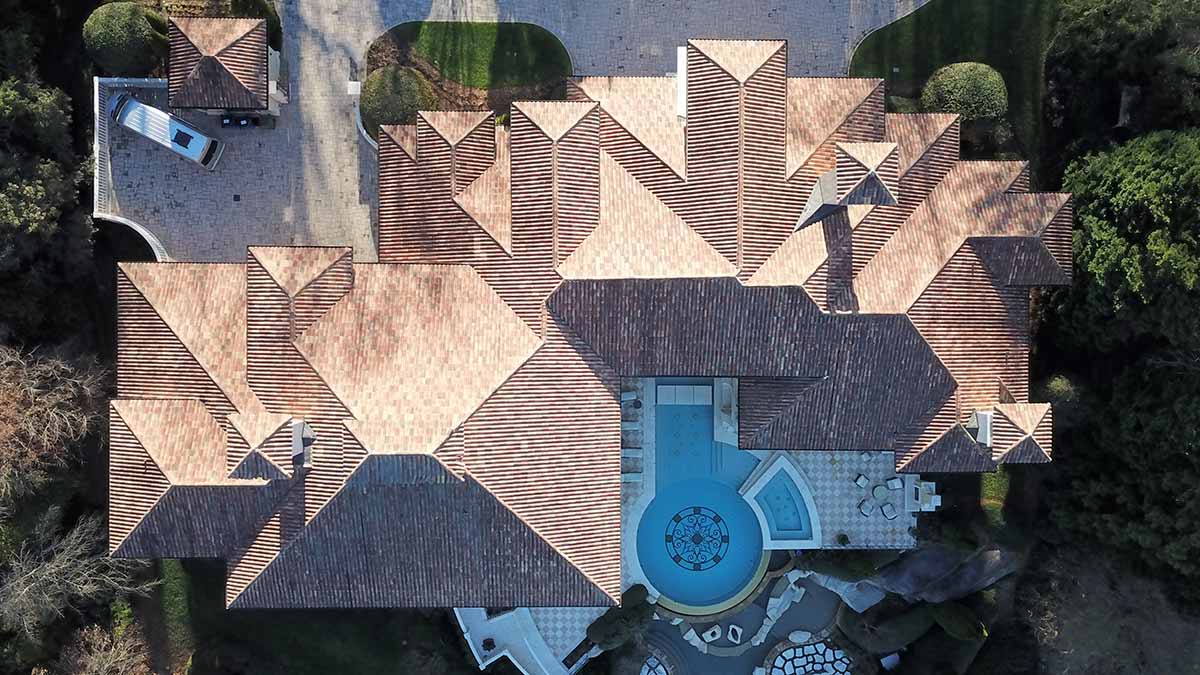 Choose EZ Flow For Raleigh Roof Cleaning Services
While the siding on your home is very noticeable, your roof is a little less visible because it is out of your line of sight. Just because you can't see dirt, algae, mold, and other grime on your roof, doesn't mean it's not there. While having all 4 seasons might make Raleigh a great place to live, it also can do a number on your roof. Rain, snow, falling leaves, pollen, and other debris all contribute to a dirty appearance on your roof and if it isn't cleaned, over time it can start to cause stains to form on your roof. At EZ Flow, our roof cleaners in Raleigh use state-of-the-art technology and an eco friendly roof cleaning solution that is tough on dirt and stains, but that won't damage the environment. Get a free estimate from our team today and find out why we are one of the best roof cleaning companies in Raleigh NC.
Benefits Of Roof Cleaning & Roof Stain Removal Raleigh NC
There's no denying that having a beautiful roof is better than having a dirty roof, but the benefits to roof stain removal in Raleigh go beyond aesthetics. Here are some of the benefits that you can expect from roof cleaning Raleigh:
Increase the value of your home.
Prolong the lifespan of your roof
Cut down on maintenance costs
Increased curb appeal
Keep your gutters cleaner
Keep the warranty on your shingles
Prevent pests
Prevent roof damage
And more!
If you live in Raleigh and have been thinking getting your roof washed or cleaned, we can help. We will get rid of any dirt buildup and remove any stains on your roof, all without damaging your home. Contact EZ Flow online or give us a call at 919-518-4929 to schedule services or to get a free estimate on roof cleaning Raleigh & the Triangle.
Our Raleigh Pressure Washing Services
Get a Free Quote On Roof Cleaning Raleigh NC
EZ Flow is a leading provider of roof washing, roof stain removal & roof cleaning Raleigh & the Triangle. As a locally owned and operated roof cleaning company in Raleigh we know the best ways to get rid of dirt and grime without damaging homes in the area. We have been cleaning roofs in Raleigh for over a decade and we take pride in the work that we do as well as our commitment to customer service. We also provide a number of other pressure washing services in Raleigh, including, but not limited to: Gutter cleaning, window cleaning, dryer vent cleaning, pressure washing, home exterior washing, deck restoration, solar panel cleaning, and concrete cleaning in Raleigh & beyond. For a free estimate on roof washing in Raleigh, contact us online, or give us a call at  919-518-4929.