Why Choose EZ Flow For Pressure Washing in Chapel Hill NC?
You want to know that you can count on the company that you have doing your window cleaning or pressure washing in Chapel Hill. Choosing a company that is local to the Triangle area of NC means that they have experience in handling the different challenges that are often encountered in the region. At EZ Flow our team is fully licensed and insured and our customer reviews, from real local customers, can help you rest easy knowing that we'll get the job done well at a price you can afford. Our team has the right tools and training to clean your solar panels, home exterior, windows, and even clean out your dryer vents. Give us a call or contact us online to schedule service or get a free estimate on window cleaning & power washing in Chapel Hill.
OUR PRESSURE WASHING SERVICES IN CHAPEL HILL NC
We Also Offer Commercial Window Cleaning & Pressure Washing in Chapel Hill
Gas Station Pressure Washing Chapel Hill
EZ Flow provides commercial window cleaning & pressure washing for gas stations. We will keep your concrete free of grease & stains, your windows clear, and your signs free from dirt. Get a free quote today.
Office Exterior Pressure Washing Chapel Hill
Let EZ Flow keep your office walkways, windows, and exterior clean & beautiful. This will create a better working environment for your employees and make a lasting impression on your guests & visitors.
Power Washing For Retail Spaces Chapel Hill
Nothing can give a bad impression quicker than dirty windows or a filthy exterior on your retail location. EZ Flow keeps your retail locations exterior clean by power washing & window cleaning in Chapel Hill.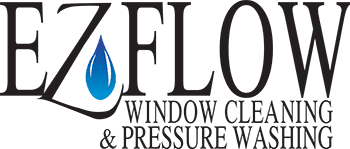 About EZ Flow in Chapel Hill NC
In 2012, EZ Flow was founded in Raleigh with the goal of being the name you can count on in Chapel Hill for pressure washing & window cleaning services. Now we are one of the leading providers of pressure washing services in The Triangle, mostly because we care so much about our commitment to quality & dedication to customer service. We understand that our reputation in the local community is the reason that we are so successful, which is why we always strive for 5 star results. We aren't the cheapest pressure washing company in Chapel Hill, but we aren't the most expensive either. Our prices are fair and we take pride in every job that we do. If you are looking for a reliable pressure washing or window cleaning company in Chapel Hill, talk to the team at EZ Flow and get a free estimate today.