It's Important To Keep Your Gutters Maintained & Cleaned in Cary NC
Cary NC is a wonderful place to live, work, raise a family, or go to school; but people also love it for the weather. While it's great to get to experience all four seasons, it can cause issues for your gutters. Snow, heavy rains, falling leaves, and even pollen can all clog your gutters from functioning properly. If water doesn't flow away from your home properly it can lead to water damage, structural issues, damage to your roof, and can lead to pest problems; all of which can lower your the value of your home. If you can't remember the last time you had your gutters cleaned, give the Cary gutter cleaning professionals at EZ Flow a call and get a free estimate. We work year round providing affordable, reliable, gutter cleaning in Cary NC.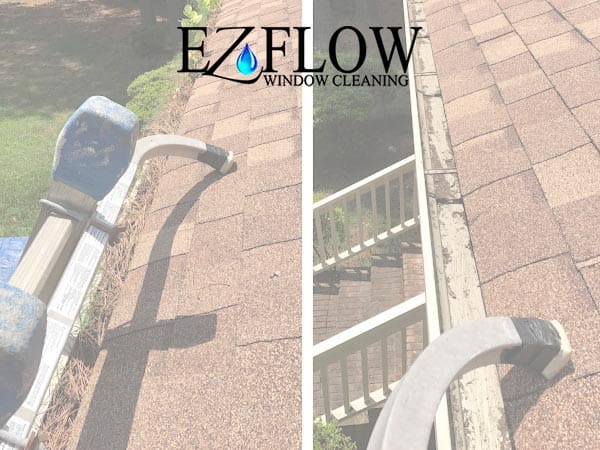 Frequently Asked Questions About Gutter Cleaning in Cary
EZ Flow Is The Best Gutter Cleaning Company in Cary NC
EZ Flow provides more than just gutter face cleaning. When you hire us to clean your gutters, we will clear the downspouts, unclog the gutters, and make sure it looks good too. There are a number of reasons to choose EZ Flow for gutter cleaning in Cary, including:
Decades of experience cleaning gutters in Cary
We don't just clean, we get rid of gutter clogs
We can extend the lifespan of your roof
Prevents damage to your roof
Protects your basement from flooding
Did we mention we're highly reviewed?
We're often asked by our customers in Cary how often they should get their gutters cleaned. It's hard to answer this question without knowing more specifics where your property is located and how much debris (leaves, pollen, etc) there is around. The more dirt and grime, the more often you should have your gutters cleaned. EZ Flow offers a maintenance package for gutter cleaning in Cary NC so that we can make sure your gutters are clean and clear throughout the year. Because we'll know how often your gutters are maintained, we can even offer a 10-20% discount on our gutter cleaning service in Cary NC.
See What Our Customers Have To Say
Check Out Our Other Cary Pressure Washing Services
Contact Us For a Quote On Gutter Cleaning In Cary NC