The Best Choice For Gutter Cleaning In Cary NC
Keeping your gutters clean is necessary to ensure they function properly and drain rainwater from your home throughout the year. Without proper maintenance, accumulation of branches, leaves, dirt, and other debris can clog your gutters, leaving your home susceptible to water damage. EZ Flow works year round providing gutter cleaning services Cary NC. Leave it to the trained professionals to do your gutter cleaning in Cary NC by giving us a call for a free estimate.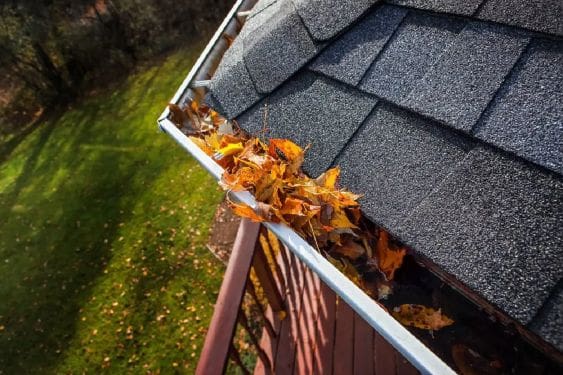 Our Cary Gutter Cleaning Company Can Increase Your Curb Appeal
Many people enjoy living in Cary because of the temperate climate and 4 distinct seasons. While the weather is nice, it does mean that your gutters are subject to fallen branches, debris, snow, ice, and heavy rains. If your gutters aren't cleaned you will notice that they get dirty, but also that they can become clogged which can stop water from flowing away from your home. Not only do they look bad, but clogged gutters are a nesting place for insects, rodents, and other other animals, which can mean that they may eventually enter your home. Choose EZ Flow for gutter cleaning & gutter unclogging in Cary NC and let us take care of the hard work so you can make the best use of your free time. Give us a call or contact us online for gutter clog removal in Cary NC 
Why Have EZ Flow Unclog Your Gutters In Cary?
EZ Flow provides more than just gutter face cleaning. When you hire us to clean your gutters, we will clear the downspouts, unclog the gutters, and make sure it looks good too. There are a number of reasons to choose EZ Flow for gutter cleaning in Cary, including:
Increased Curb Appeal
Eliminates nesting places of pests & animals
Protects your home from leaks & water damage
Prolongs the life of your gutters
Keeps your home beautiful
Prevents damage to your roof
Protects your basement from flooding
Extends the lifespan of your roof
Maintains proper flow of rainwater away from your home
And more!
Do you have dirty or clogged gutters and are looking for the best gutter cleaning company in Cary? EZ Flow can make sure that your gutters are flowing properly and looking beautiful. Give our team a call at 919-518-4929 or contact us online to get a free estimate on our gutter cleaning services in Raleigh NC.
Other Cary Pressure Washing Services
Get a Free Quote On Gutter Cleaning in Cary NC
Are your gutters clogged and impeding the flow of water away from your home? EZ Flow is the best company for gutter cleaning Cary NC. Our gutter unclogging professionals will make sure that your gutters are free from debris & clogs, while making sure that your gutter faces are clean as well. We also provide a number of other window cleaning & power washing services in Cary, for commercial & residential customers. If you are in need of window washing, home exterior washing, concrete cleaning, dryer vent cleaning, patio washing, solar panel cleaning, and roof cleaning in Cary & The Triangle. Our service area includes Clayton, Fuquay Varina, Wake Forest, Louisburg, Chapel Hill, Morrisville, Youngsville, Durham, Raleigh, Knightdale, Holly Springs, Garner, Apex, Cary, Carrboro, Wendell, Zebulon, Rolesville, & the surrounding areas. Give us a 919-518-4929 or contact us online for a free quote on gutter cleaning & gutter unclogging in Cary NC.