Affordable Gutter Cleaning In Wake Forest NC
If your gutters are clogged it can prevent water from flowing away from your home, which can eventually damage your roof or foundation. Because your gutters are high up off the ground, cleaning them is time consuming and can be dangerous without the right training and equipment. That's why EZ Flow provides affordable, reliable gutter cleaning & gutter unclogging in Wake Forest NC. Our team of highly trained gutter cleaning & gutter unclogging professionals will make sure your gutters are free of dirt, leaves, and other debris that stop water from flowing smoothly away from your home. Give us a call to get a free estimate on gutter cleaning Wake Forest and save yourself the hassle, without breaking the bank.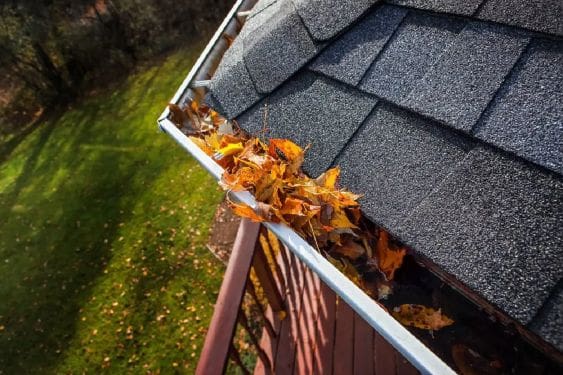 EZ Flow Can Take Care Of Your Clogged Gutters In Wake Forest NC
It's not uncommon for homeowners in Wake Forest to have clogged gutters throughout the year. Dead & decaying leaves, animal nests, branches, sticks and other debris can create blockages in your gutters and downspouts, stopping water from being diverted away from your foundation and roof. At EZ Flow, we don't just have the training and experience to get rid of these clogs, as a company that's local to Wake Forest & The Triangle, we understand the types of clogs that we're most likely to encounter. That means we will bring the right tools and equipment to get rid of clogs, while leaving your gutters looking clean and beautiful. If you are looking for a company for gutter unclogging Wake Forest NC, contact EZ Flow today.
Benefits To Gutter Cleaning in Wake Forest NC
Clogged and dirty gutters are unsightly, but there are other reasons that having your gutters cleaned can benefit your home or business. When you choose EZ Flow as your gutter cleaning company in Wake Forest, these are some of the benefits that you can expect for your home:
Increases curb appeal
Extended roof lifespan
Minimizes insect infestations
Protects your foundation & home from leaks
Protects your crawlspace & basement from flooding
Keeps your home beautiful
Prevents wood rot & fascia damage
Extends the lifespan of your gutters
Maintains proper flow of rainwater away from your home
And more!
If you have clogged gutters & have been looking for a company that can unclog them and get them clean at a reasonable price, contact EZ Flow for gutter cleaning & gutter unclogging in Wake Forest NC. Get a free estimate when you contact us online or just give us a call at 919-518-4929.
Need Pressure Washing in Wake Forest?
Get a Free Estimate on Wake Forest Gutter Cleaning Services
Clogged gutters stop water from flowing away from your house and can cause damage to your home & foundation if not taken care of. Clogged gutters are also a haven for pests and rodents to make nests and mate, infesting your home. If you live in Wake Forest and are looking for an affordable gutter cleaning & gutter unclogging company, EZ Flow has you covered. We provide our gutter services for both residential and commercial customers. We are more than just gutter cleaning in Wake Forest, we also provide home power washing, solar panel washing, pressure washing, roof cleaning, concrete cleaning, deck & patio cleaning, dryer duct cleaning, and window cleaning services. We provide our services throughout our entire service area which includes: Clayton, Fuquay Varina, Louisburg, Apex, Chapel Hill, Morrisville, Knightdale, Garner, Youngsville, Durham, Zebulon, Holly Springs, Raleigh, Cary, Wendell, and of course,  Wake Forest. For a free estimate on any of our services give us a call at 919-518-4929 or contact us online today.